Top international powerhouse Ray White Remuera embraced their inner-jazz hands this week, and in doing so, sold eight of 10 properties via the auction method for a combined total of $NZ14,351,000.
On the night, Ray White New Zealand Chief Auctioneer John Bowring sold five of the properties under the hammer, with three of the other five either selling prior or under auction conditions.
"We're not seeing anything like a downward effect on the property market at the moment – prices are remaining strong right now," Mr Bowring said.
"The recent interest rate drops have certainly encouraged people, rather than discouraged, and as we move forward there's no mention of auction campaigns being pulled.
"The auction market also shows no signs of slowing down with Ray White Remuera alone having 60 auctions booked across the next four weeks, and although we have the online platform GAVL to bid and buy on, people are still turning up at events.
"Kiwis are far more interested in putting their money in properties rather than stocks and shares, so investing in bricks and mortar continues to be as popular as ever.
"With the advent of legislation by the NZ government, our Covid–19 protocols are in place to ensure the Covid–19 pandemic passes through our country with minimal physical impact on our families, our communities and our world.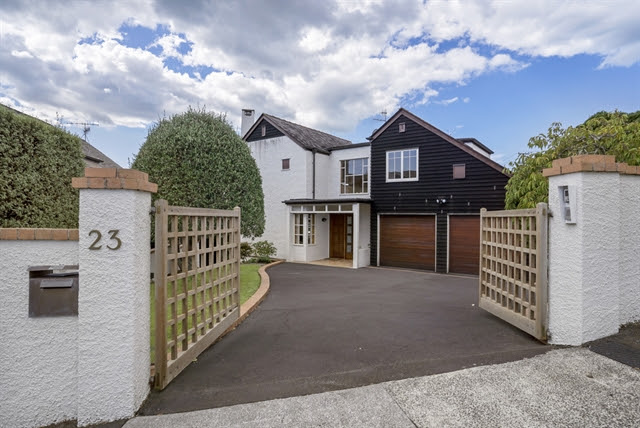 "Our protocols include compulsory registration of those attending our auction rooms so we can contact them if a health and safety matter was to occur.
"Hand sanitizer must be used on entry and exit of our premises and a distance of at least 2 metres must be kept from all attendees, with children being supervised at all times."

Ray White Remuera Sales Agent Steen Nielsen had the biggest sale of the night as he managed the $2,621,000 sale of 23 Aldred Road (pictured above).
Mr Nielsen said the 'new normal' saw buyers arrive at open homes and to auctions with face masks. "But at the end of the day, it's the same person behind the mask who wants to buy the property," said the leading agent.

"The market value of this home was $2,100,000 and we received a pre-auction offer of $2,150,000 so we decided to open the bidding at that highest offer," he said.

"After a strong print advertising campaign, we had more than 70 groups through in the first two weeks, so we made the decision to bring the auction forward a week and a half.

"We had seven bidders registered on the night, five of whom were active, and competition drove the price all the way up to a sale price that was $521,000 over our expectations.

"The property itself was in a great area and had access to excellent school zones and the lucky winning bidder was Chinese."