Luxury properties in New Zealand have been in high demand throughout the pandemic due to low interest rates, high savings rates, a desire for more space, and people spending more time at home.
Ray White chief economist Nerida Conisbee said New Zealand's had seen a rise in "luxury suburbs" which she considered areas with a median house price over $2 million.
"Ten years ago, New Zealand had just three suburbs with medians over $1 million," Ms Conisbee said.
"Saint Mary's Bay was the most expensive with a median of $1.6 million. This was followed by Herne Bay ($1.4 million) and Remuera ($1 million).
"There are now 241 suburbs with medians above this price point and, with more than 10 per cent of suburbs now priced over $1 million, it is no longer such a unique achievement to get to this level.
"There are now 17 suburbs with medians over $2 million.
"Saint Mary's Bay is still the most expensive but has a median of just under $3.5 million and this is followed by Omaha ($2.8 million) and Kawarau Falls ($2.7 million).
"The top ten most expensive suburbs in New Zealand have seen double digit price growth over the past 12 months.
"Stanley Point has seen the largest increase of just over 56 percent."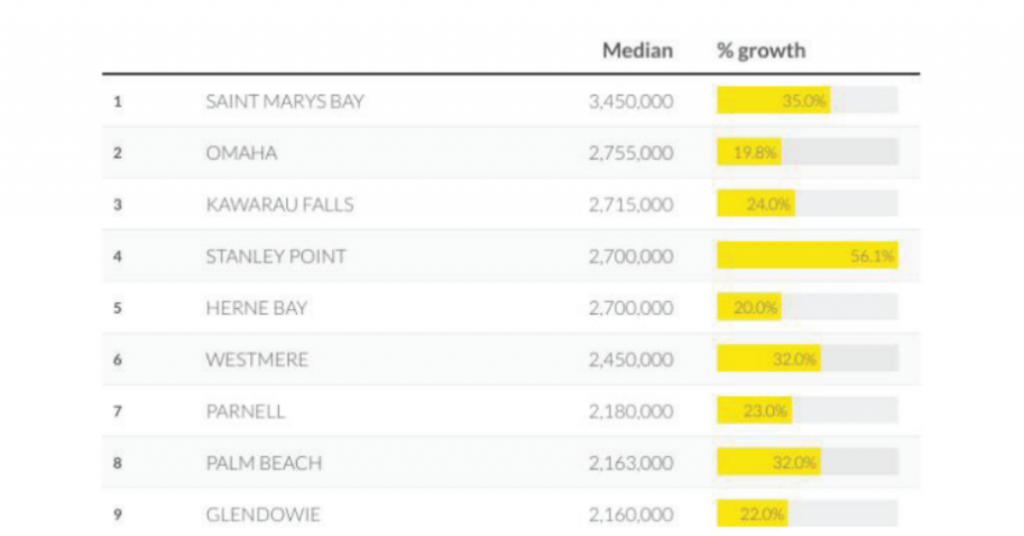 While Saint Mary's Bay is the most expensive suburb in New Zealand, Ms Conisbee said finding a home there was quite difficult as the suburb was tightly held.
"There have been only 32 sales over $2 million since last September," she said.
"Over the past 12 months, the suburb that has seen the most $2 million plus house sales has been Remuera, followed by Mount Eden and Epsom.
"For units, Auckland Central tops the list with 218 sales of $1 million plus apartments."
Remuera saw 470 properties sell for more than $2 million in the 12 months to September 2021.
Ray White Remuera's top salesperson Steve Koerber said the market had been strong throughout 2021.
"The year started strongly with more sales in the first two quarters than in any of the previous five years," Mr Koerber said.
"The suburb was coming off a low baseline of previous sales, however, due to a noticeable shortage of stock and a reluctance of homeowners to sell.
"The quarterly rolling median price in January was around $2million.  In October it was up to $2.7 million – quite a significant increase."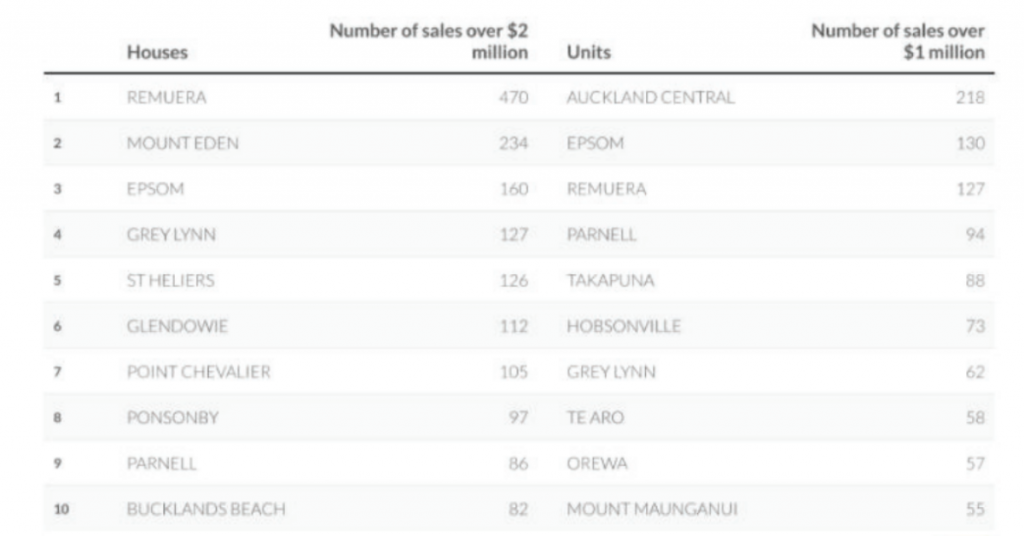 Mr Koerber said demand for luxury houses had remained steady throughout the pandemic.
"Supply remains a problem and currently, there are fewer than five homes openly advertised in the $10m plus range," he said.
"A recent Ray White Remuera listing that transacted in that range sold after multiple offers from multiple parties.
"Around 30 per cent of buyers are moving within the suburb and trading up.
"There has been strong demand from buyers moving to be closer to local high decile schools and more up-trade activity than usual.
"We have also noticed a trend whereby people definitely are seeking separate spaces within a home for working and studying at home."
With lockdowns weighing heavy upon those living alone, Mr Koerber said many sellers in the Remuera area throughout the pandemic had been senior citizens.
"Retirement villages have longer waiting lists and a higher percentage of Remuera sellers in 2021 have been senior citizens," he said.
"There has also been an increase in the number of people selling to work from home in more affordable regional locations."
Ms Conisbee said the outlook for New Zealand's luxury housing market showed little sign of slowing down.
"House prices in New Zealand undertook a surprise surge in October, after seeing only modest growth in previous months," she said.
"Despite some major changes to financial regulation and an interest rate rise, it appears that the market is yet to run out of steam.
"If you were hoping to find a bargain mansion in Saint Mary's Bay or a luxury apartment in Parnell you may be out of luck."