New Zealand is undergoing its biggest renovation in history as home improvement activity hit an all time high throughout the pandemic.
According to Ray White chief economist Nerida Conisbee, the value of consents for alterations and additions to existing homes hit a record high of $1.8 billion in 2021.
"Many of the drivers of this renovation activity are similar to what drove house price increases – very low interest rates and high savings rates," Ms Conisbee said.
"Add to this, a lot of time stuck at home and the result was a lot of much nicer kitchens, new bathrooms and beautiful outdoor areas.
"This level of spending on our homes is unlikely to have taken place without the pandemic."
By location, Auckland residents spent the most on their homes in 2021 at $640 million. This was followed by Wellington at $111.6 million, and then Christchurch at $95.5 million.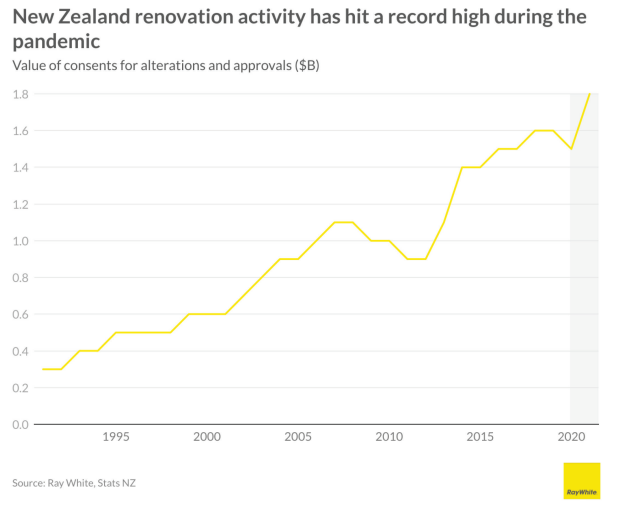 The areas that saw the biggest increases from 2020 included Opotiki, Horowhenua and Masterton, rising by in excess of 80 per cent.
"Having a look at the average renovation spend per home, Auckland residents are spending the most with many capitalising on the sharp rise in house values," Ms Conisbee said.
"The average renovation approved was $126,000.
"Coming in second was Queenstown-Lakes District at $116,000, with Wellington third at $106,000."
While New Zealand residents spent a lot of time and money renovating their homes in 2021, Ms Conisbee said the activity was unlikely to continue at the same rate.
"With interest rate increases has come a slow down in lending – this is moderating house price growth and will also moderate spending on improving our homes," she said.
"Building costs are also increasing rapidly, pushed up by stuck supply chains and difficulties in finding labour.
"Finally, we are likely to see savings rates reduce this year as we start to travel again and spend our money going out instead of on our homes.
"The great renovation boom may mean our bathrooms will never look as good as they do now, but hopefully the end of lockdowns and our ability to travel again will mean that it will matter less."