The beautiful sounds of waiata and karakia could be heard from the new Ray White Manurewa office on May 26, as members of the Tainui Iwi officially opened and blessed the branch, becoming the first-ever real estate agency to be blessed by local iwi.
Important members of the Tainui Iwi, including Rangi McLean and Ngaire Lasika, carried out an official spiritual karakia whakatuwheratia from 5am at the freshly renovated Great South Road office, while nearly a hundred Ray White staff and salespeople were guided by this important blessing.
"We were very pleased to welcome Tainui Iwi to our premises to carry out the official blessing under Tainui kawa – it was an incredibly moving event and the beginning of a wonderful partnership," Ray White Manukau, Manurewa, Mangere Bridge, and Mangere group co-owner Tom Rawson said.
"Manurewa sits within the tribal boundary of the Tainui Iwi, one of the most influential iwi in the country, so it felt right to reach out to them and receive their blessing to open this new office."
The morning consisted of iwi members and attendees assembled on Great South Road at 4.30am, followed by karanga, karakia and breakfast; followed by a powhiri, further karanga and karakia, guest speakers and lunch later in the day.
Speakers included Ray White New Zealand CEO Carey Smith, and members of the Ray White Manukau, Manurewa, Mangere Bridge, and Mangere group senior leadership team Tom Rawson and Richie Lewis, while other senior leaders Geoff Culley and Adam Thomson watched on.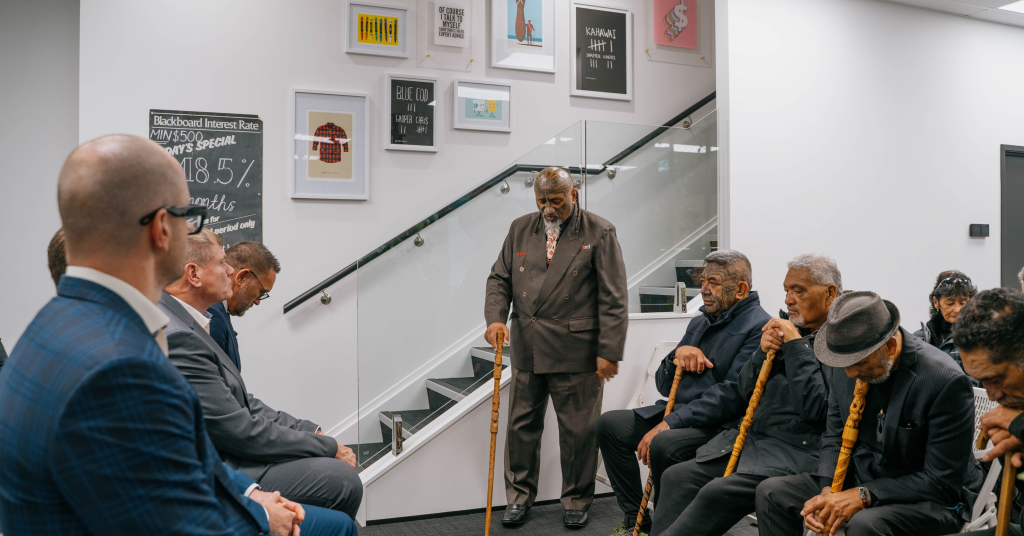 "We have a hugely diverse team of agents and staff, including many of Māori descent, so this has been a way to honour our heritage too," Mr Rawson said.
The new Ray White Manurewa office is now in the huge 750sqm building previously operated by the Bank of New Zealand. Renovations included open-plan offices, an executive meeting room complete with the old bank vaults, a fully equipped gym with bathrooms and a sauna, and a children's play area as well. 
Mr. Rawson said a recent visit by a traveling Real Estate CEO saw him declaring the space, "the best he has seen in 30 years in the industry".
"The Manurewa office currently has 32 team members but is always looking to grow – and you will not find a better office in this region," Mr Rawson said.