Auction results have remained strong for Ray White Hamilton as it nears the end of the year, with $7,536,000 in property selling under the hammer during its virtual in-rooms on Tuesday.
Eight out of 12 properties were sold under the hammer with Ray White New Zealand auctioneer Ben East calling them all.
"Vendors across the day saw multiple registered bidders across properties with active bidding," Mr East said.
"The transparent and competitive environment meant vendors' expectations were exceeded."
The top sale went to 16 Duncan Road, Ngahinapouri (pictured above) which sold for $1.3 million — a great result for the vendors and listing agent Mark Keesom.
The four-bedroom home attracted a lot of interest with two registered bidders on the day, with the winning bid going to a couple who were selling their house in Te Awamutu to upgrade to a lifestyle property.
Another successful auction was the sale of 164 Massey Street, Frankton, which sold for $690,000.
It was the first sale for new Ray White Hamilton recruit Ayalister Dsouza, and the vendors (pictured below) were very happy with the result as it allowed them to upsize to their new family home.
The winning bidder was an ecstatic first home buyer.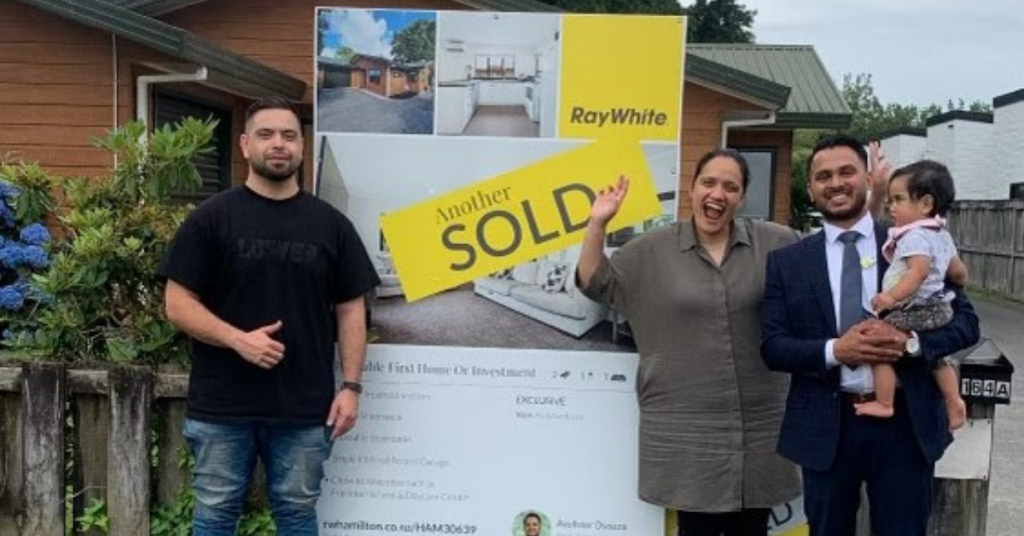 Ray White Hamilton managing director Fraser Coombes said the business had been giving auctions a final push towards the end of the year.
"We believe in auctions and creating competition at Ray White Hamilton," he said.
"We had 12 today, we have three next week, and five the week after, making it 20 auctions for the month. Our vendors realise that now is a great time to bring their properties to the market.
"We're working with auctions right up until December 21."
After a surge in listing numbers after the lifting of Covid-19 level 3 restrictions in the Waikato, Mr Coombes said buyers had been provided with a bit more choice.
"The seasonal increase in spring listings had been delayed due to Covid and hit the market in November," he said.
"But there are still plenty of buyers competing and our job is to create that competition for vendors.
"It's still a great time to buy and sell."
While the Hamilton region is currently operating in the Orange Zone, Mr Coombes said he believed buyer enquiry will increase again once Aucklanders can cross the border.
"While the online auctions have been a great measure for Auckland buyers to buy properties throughout lockdown, they've not been able to physically inspect properties," he said.
"Once Aucklanders can cross on December 15, we are expecting more enquiry from Auckland buyers.
"We're anticipating a great start to 2022 with vendors listing properties now that will see their marketing campaigns commence in the New Year."