A fully-restored character home designed by renowned New Zealand architect James Chapman-Taylor has hit the market.

The four-bedroom, two-bathroom home at 7 Liffey Street, Island Bay, is famously known as 'The Church House' and was the first home Chapman-Taylor designed and built for himself.
The prominent architect of the arts and craft movement completed 84 homes across his career, with some of his most well-known homes including Wilkinsons Castle and Whare Ra.
The property is being brought to market by Ray White Wellington agent, Ben Atwill, and his team. 
"This property is perfect for lovers of architecture, history, and craftsmanship," Mr. Atwill said. 
"It's an understated yet sumptuously spacious, lovingly restored, character home.
"The home has been extensively renovated with complete sympathy to the key architectural features of its origins but with the ease and convenience of a modern lifestyle being top of mind.
"The ultra-modern, open plan kitchen flows out into a fully-fenced, dream entertaining area and near-flat lawn. 
"It gets tremendous afternoon sun and is sheltered from the cold southerly wind."
The sellers, Danielle and Scott Thomson bought the property almost seven years ago after moving to Wellington. 
"We loved the feel of the home, and the area was beautiful – it was a bit of a diamond in the rough," Mrs. Thomson said. 
"The vision was clear to us from the start, we knew it would be a lot of work but we were ready for a project to bring it back to life."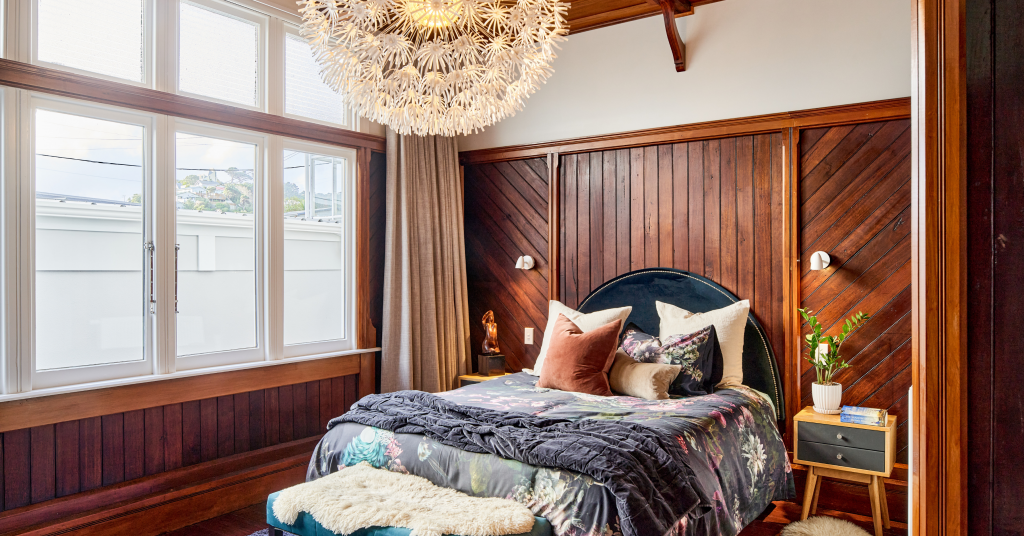 Since purchasing the home, the couple have done extensive renovations including re-piling, restoring the windows, and completely rebuilding the back of the home.
"We tried to be sympathetic to the original design and really do it justice," Mrs Thomson said.
"We didn't have an indoor toilet when we bought the house, it was in a shed out the back, so we really appreciate the two indoor bathrooms it now has."
Mrs Thomson said they had since grown their family to include two young daughters and a dog, and were looking to move into a larger family home.
Mr Atwill said the home would suit families, executive couples, and empty nesters.
"Capitalise on the seller's incredible investment and painstaking attention to detail and secure this arts and craft style home that will provide an elegant backdrop to many happy memories," he said.
The property is for sale via tender, closing July 5 at 1pm.